All four new iPhone 14 models and the second-generation AirPods Pro support Bluetooth 5.3, according to Apple's technical specifications for each device, but the status of LE Audio support for the devices remains unclear at this time.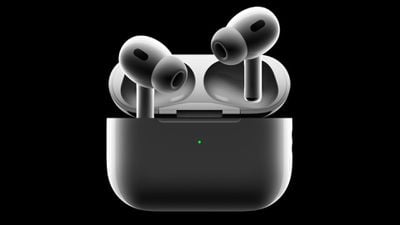 Supported on any device with Bluetooth 5.2 or higher, LE Audio is a low-power audio streaming specification that would bring several benefits to devices within the Apple ecosystem. Earlier this week, we outlined five benefits LE Audio could bring to AirPods Pro in particular if Apple supported the spec:
Improved sound quality: LE Audio includes a new low-power audio codec called LC3 that offers improved sound quality compared to the classic SBC codec, even at a 50% lower bit rate, according to the Bluetooth SIG.
Longer battery life: With the low-power LC3 audio codec, AirPods Pro would have longer battery life for audio playback.
Multistream audio: LE Audio would enable the transfer of multiple synchronized audio streams between a source device such as an iPhone or Mac and the AirPods Pro. This would allow an individual left and right AirPod to each have its own Bluetooth audio connection to a device that supports LE Audio for better fidelity.
Connect multiple AirPods pairs to an iPhone at once: LE Audio allows many pairs of AirPods to simultaneously connect to an iPhone, iPad, Mac, or other device with Bluetooth 5.2 or later. Apple already has a feature that allows an iPhone or iPad user with AirPods to share audio with someone else with AirPods, but the feature won't work with more than two pairs of AirPods.
No need to switch between iPhone and Mac: LE Audio allows AirPods to connect to multiple source devices such as iPhone and Mac at the same time, eliminating the need to switch AirPods between devices.
Apple's press releases and tech specs pages for the iPhone 14 and new AirPods Pro don't seem to mention LE Audio or the benefits mentioned above, leading us to believe that LE Audio may not be supported on the devices right now, but we've been in touch. contacted Apple for confirmation. In July, the organization behind Bluetooth said it expected the availability of products supporting LE Audio to increase by the end of 2022.
Given that iPhone 14 models and the new AirPods Pro have Bluetooth 5.3 chipsets, it's possible that Apple could enable LE Audio in the future with a software/firmware update if the devices don't currently support the specification.
related stories
Five Benefits Bluetooth LE Audio Would Bring to Next Generation AirPods Pro
In 2020, Bluetooth 5.2 was introduced with support for a new LE Audio specification. At least two Apple employees are listed as participants in LE Audio's development, and Apple is likely to adopt the specification for use in future devices. According to a newly published request in the Bluetooth SIG database, Apple recently had an unknown component with Bluetooth 5.3 support tested. The …
What to Expect from AirPods Pro 2 at Tomorrow's Apple Event
Apple is reportedly planning to introduce the second-generation AirPods Pro alongside the iPhone 14 at a special event at the Steve Jobs Theater next Wednesday. If you're considering upgrading to the new AirPods Pro as soon as they're released, read on for a list of new features and improvements rumored to be so far. In addition to all-new features, the second-generation AirPods Pro will…
New AirPods Pro do not support Lossless Apple Music
The new AirPods Pro, despite having an all-new H2 chip and improved sound quality, don't seem to support lossless Apple Music audio. The H2 chip is the successor to the previous H1 chip and offers new features such as improved active noise cancellation, an improved transparency mode and a better overall sound. One of the rumors about new capabilities of the new chip was that it…
Don't buy AirPods Pro now: AirPods Pro 2 on hand
Launched more than 1,000 days ago, the AirPods Pro is the oldest current-generation Apple device still on sale. With a new model about to be announced by Apple, customers will now have to wait to buy AirPods Pro until the new model arrives. Apple announced the AirPods Pro on Monday, October 28, 2019. The earbuds went on sale immediately and the orders started coming in…
AirPods Pro 2 tidbits: heavier charging case, lanyards sold separately, and more
Apple this week introduced the second-generation AirPods Pro with improved sound quality, longer battery life, up to 2x more noise cancellation than the original AirPods Pro, a redesigned charging case with Find My support and water resistance, a new extra small option for earbuds, the ability to on the handle swiping up and down to adjust volume, and more. In addition to these important new features, there is…
All the new features that the H2 chip brings to the AirPods Pro 2
Apple today introduced the second-generation AirPods Pro, which are equipped with an all-new H2 chip. The H2 is the successor to the H1 and enables new features such as improved noise reduction, a new transparency mode and better sound. Active Noise Canceling – The H2 chip in the AirPods Pro 2 cancels twice as much noise compared to the original AirPods Pro. Custom…
Here's the new AirPods lineup: AirPods 2, AirPods 3, AirPods Pro 2, and AirPods Max
Apple today introduced the second-generation AirPods Pro with H2 chip, which means that the first-generation AirPods Pro has been discontinued and not kept as a cheaper option. The AirPods Pro are sold alongside the AirPods 3 and the AirPods Max, with the AirPods 2 also in the mix as the cheapest AirPods. The prices for the AirPods range are below: AirPods 2 – $129 AirPods…
Popular stories
Apple Unveils iPhone 14 Pro with Dynamic Island, Always-On Display, 48MP Camera and More
Apple today announced the iPhone 14 Pro and iPhone 14 Pro Max, featuring the "Dynamic Island" to bring out alerts and activity in a new way, a brighter display with always-on functionality, the A16 Bionic chip, a more advanced camera system, new color options and more. The iPhone 14 Pro and iPhone 14 Pro Max offer the "Dynamic Island" thanks to a redesigned TrueDepth camera array that…
Live Blog Apple Event: iPhone 14, Apple Watch, AirPods Pro and more expected
Apple's "Far Out" event kicks off today at 10:00 AM Pacific Time, where we expect to see the iPhone 14 lineup, several new Apple Watch models, updated AirPods Pro, and perhaps some other announcements. Apple offers a live video stream on its website, on YouTube and in the company's TV app on various platforms. We will also update this article with live blog coverage…
Here's a first look at iPhone 14 Pro's new Dynamic Island Notch
Apple today introduced the iPhone 14 Pro and iPhone 14 Pro Max with a new pill-shaped cutout called "Dynamic Island," which Apple says offers "a rich and delightful new way to interact with activities, alerts, and notifications" on the devices. . With a combination of hardware and software, the Dynamic Island can morph into different shapes and sizes for things like incoming phones…
Apple Unveils Big-Screen Apple Watch Ultra for Athletes and Explorers
Apple today at its "Far Out" media event announced the Apple Watch Ultra, a new feature-rich smartwatch for athletes and explorers, featuring an all-new design, a large flat sapphire crystal screen, an additional programmable action button, and mobile as a kickstand. The 49mm titanium case features the brightest Apple Watch screen yet at 2,000 nits — twice brighter than previous models…
Apple removes SIM card tray on all iPhone 14 models in the US
Apple today announced that all iPhone 14 models sold in the US will not have a built-in SIM card tray and instead rely entirely on eSIM technology. Tech specs on Apple's website confirm that the iPhone 14, iPhone 14 Plus, iPhone 14 Pro, and iPhone 14 Pro Max are not compatible with physical SIM cards and instead have dual eSIM support, allowing multiple cellular subscriptions to be activated on a single phone. …
Once-rumored iPhone 14 features we don't expect anymore
After more than a year of reports on the iPhone 14 lineup, several once-believed rumors are no longer expected to materialize when the devices are unveiled this week. The iPhone 14 Pro models are expected to include the A16 Bionic chip, an always-on display, "pill and hole-punch" cutouts that appear to be a single "pill" instead of the notch, a larger screen with thinner bezels, and a 48-megap…
Apple releases iOS 16 and watchOS 9 on September 12
Apple today announced that iOS 16 and watchOS 9 will be available to all users with compatible iPhone and Apple Watch models on Monday, September 12. iOS 16 was first previewed by Apple in June, and in recent months it has undergone beta testing with app developers and members of the public beta program. iOS 16 is a major release, with key features including a full…
Everything announced at today's Apple Event in just 11 minutes
Apple held its annual iPhone-centric event today, introducing the iPhone 14, iPhone 14 Plus, iPhone 14 Pro and iPhone 14 Pro Max. Apple also introduced the new Apple Watch Series 8 models, an updated version of the Apple Watch SE, the Apple Watch Ultra and the AirPods Pro 2. Subscribe to the MacRumors YouTube channel for more videos. It took Apple more than an hour and a half to get all…